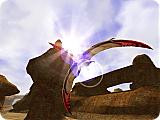 3D Canyon Flight Screen Saver allows you to fly through photo-realistic three-dimensional canyon full of living pterosaurs. Special effects like sun flares, fog, shadows and true spatial sounds highly improves the realism and animation quality....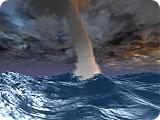 Watch a true sea storm on your desktop with SeaStorm 3D Screen Saver. This incredible saver shows you off a stormy ocean surface with swirls over it, complete with sunset sky and lightnings. Launch it and be surprised by the stunning video effects...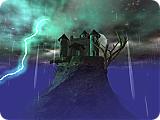 Launch ElectriCalm 3D ScreenSaver and immerse yourself in the world of beautiful and mighty nature. Be ready to fly deep into the storm where multicolored lightning bolts strike all around you and rain falls down from the starry skies. Be amazed by...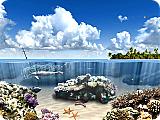 Looking for something special? Watch animated underwater world full of funny dolphins, fish, corals and mysterious relaxing sounds. The playful dolphins swim across your monitor and splash above a sunlit tropical ocean. Enjoy their amazing movement...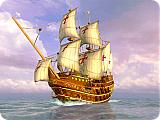 Are you ready for an exciting journey across the Atlantic Ocean? This 3D Screen Savers will take you on board a magnificent flagship. Named after Queen Victoria this beautiful vessel is the symbol of power and might of the Royal Navy. Feel the...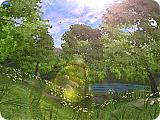 Decorate your screen with the animated views of beautiful quiet lake among the green forest. Relaxing spring scenery complete with colourful butterflies, birds and flowers. Living lake is full of fish, swimming in crystal water. Install Forest Lake...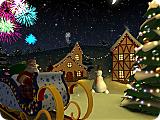 Turn this animated 3D screen saver on and the holiday atmosphere of upcoming Christmas will surround you. Transfer yourself in a fairy winter place. Start the fireworks and dance around the Christmas Tree with Santa and his friends, a funny...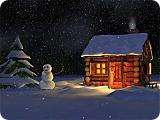 Fly away to the moment of peace and relaxation. It is a travel to quiet winter scenery, where small house of forester can be found. This Screen Saver brings the warm feelings of joy right to your computer desktop. Imagine that you are a snowflake...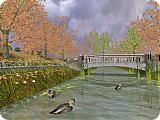 After a hot and steamy summer, autumn rain brings freshness and clarity to the air. Take a deep breath and smell the lush aroma of an autumn forest, brightly colored and calm. With this new Autumn Time 3D screen saver, you will recall the peaceful...
Aqua 3D Live Wallpaper

free

Click the button or scan QR code

New Screen Savers
April 28

April 05

March 21

March 19

March 16